Volunteer slots open for The Food Bank's "One for One" holiday food drive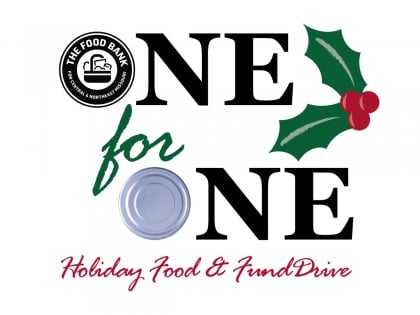 The Food Bank of Central and Northern Missouri's One for One Food Drive is an annual 12-hour holiday food drive. This year, The Food Bank staff, Zimmer Radio Group, Columbia Professional Firefighters, and Jefferson City Fire Department partner on this drive to collect monetary and food donations.
Volunteers are needed to solicit food and monetary donations Wednesday, December 15, 2021 at the Jefferson City Orschelns Farm & Home (on Missouri Blvd), rain or shine, from neighbors. Volunteers can sign up for 2-hour shifts beginning at 8:00 AM and ending at 6:30 PM, by clicking here.
Volunteer tasks will include:
Collecting and sorting donations
Greeting visitors and sharing the mission of the event
Volunteer Requirements:
Aged 18 and older
Able to lift over 30 pound boxes
Able to work outside in all weather conditions
Able to follow all safety and food safety instructions
Able to work independently and follow directions
If you need to request a special accommodation, please contact our team at (573)447-6620 or volunteer@sharefoodbringhope.org. We regularly have volunteers with disabilities serve with us, and we welcome all volunteers.
The partnership between CCCNMO and The Food Bank of Central and Northern Missouri has been a joy for each of our agencies. This year, all food donated at the One for One Holiday Food & Fund Drive will be going to our new client choice pantry, which is very exciting! We hope you will consider volunteering and sharing this opportunity with friends and family in the Jefferson City area.