We believe that access to proper nutrition, that is balanced and culturally appropriate, is a basic human right. We strive to alleviate barriers to accessing health care services and recognize the important role health plays physically, mentally, and financially.
What we do:
Join us for an Open House Celebration!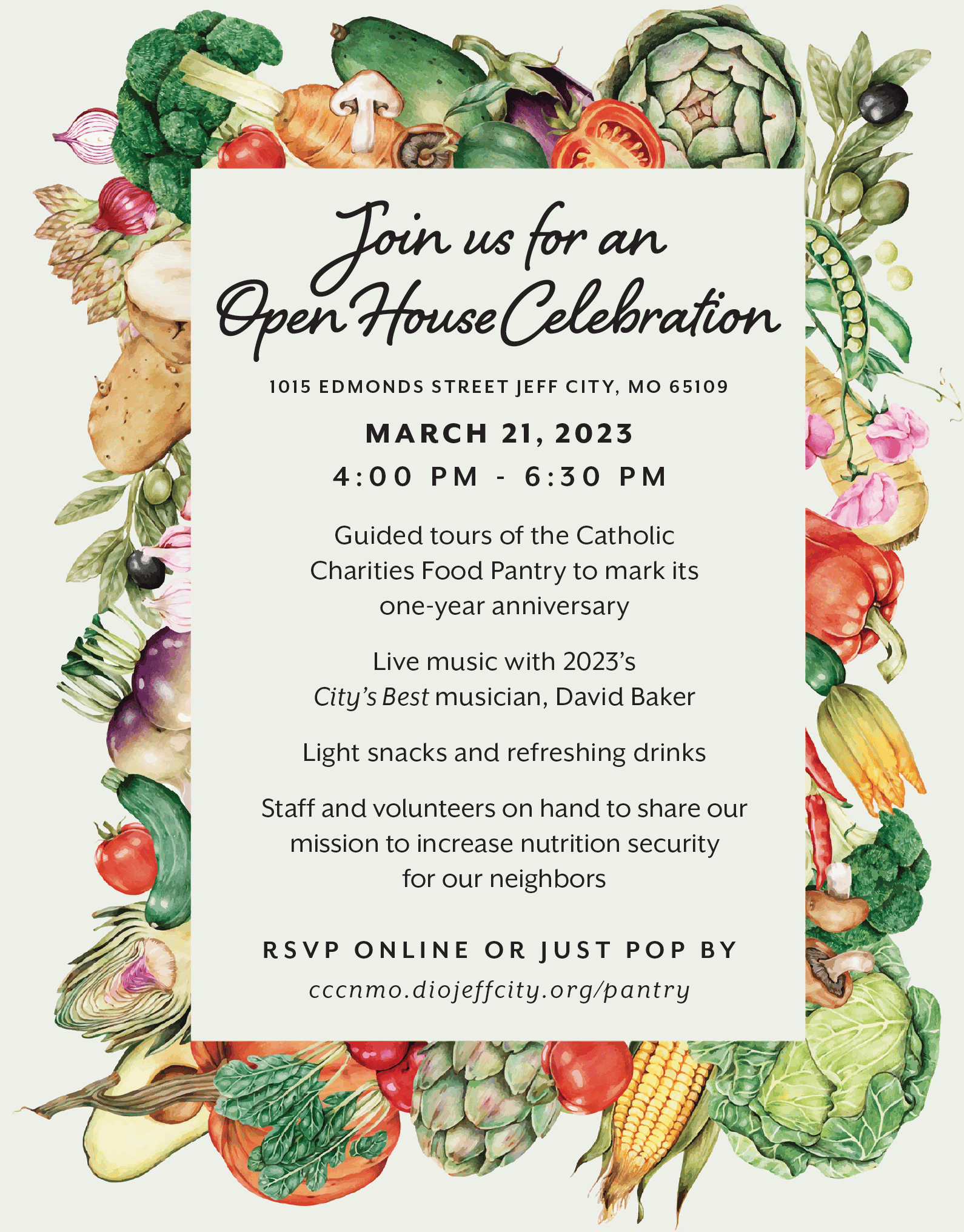 We're celebrating the pantry's one-year anniversary with an Open House event to welcome community members to tour and spend time in the pantry! RSVP with the link below, or just drop in between 4 PM and 6:30 PM on March 21st, 2023.
Visit the Catholic Charities Food Pantry
Client choice pantries are a little bit different, allowing people seeking food assistance to choose for themselves what products they receive, rather than being presented with a pre-selected and packaged assortment of food.
Following the client choice model is important to us, because we care about the individuals and families who come to our pantry and believe that client choice is a way to show that we care enough to serve them in a dignified and personal manner.
VISIT THE PANTRY TO SET UP YOUR MEMBERSHIP
Setting up your membership is easy! Come with your I.D. and one piece of mail for proof of address. If you don't have these items, come anyway, and our staff can help navigate your membership. Once you're signed up, you can shop in person or use the SmartChoice platform online to order your grocery items and schedule a pick-up time.
SHOP ONLINE WITH SMART CHOICE
If you have a pantry membership set up, you can scan the QR code on your card, or click here to access the SmartChoice online ordering system. Orders can be placed one day ahead of regular pantry hours and can be picked up on-site at 1015 Edmonds Street. If you have any questions or need help with online ordering, give us a call at 573-635-7719.
Catholic Charities of Central and Northern Missouri
Agency Phone: 573-635-7719
---
JEFFERSON CITY
1015 Edmonds Street
Jefferson City, MO 65109
COLUMBIA
1240 E. Brown School Rd.
Columbia, MO 65202
SEDALIA
421 West 3rd Street
Sedalia, Missouri 65301
---
Mailing Address
Catholic Charities of Central and Nothern Missouri
P.O. Box 104626
Jefferson City, MO 65110
---
Diocese of Jefferson City
Chancery Offices
2207 West Main Street
Jefferson City, MO 65109
Phone: (573) 635-9127
diojeffcity.org