Health and Nutrition Services
We believe that access to proper nutrition, that is balanced and culturally appropriate, is a basic human right. We strive to alleviate barriers to accessing health care services and recognize the important role health plays physically, mentally, and financially.
What we do:
Chronic Disease Self-Management (CDSMP) is an evidence-based program originally developed at Stanford University.  The program consists of a small workgroup of people who meet for six weeks, once a week for two hours. The group can either meet in-person, virtually, or in a hybrid format. The sessions are highly interactive, focusing on building skills, sharing experiences, and supporting each other.  All programs are led by a team of trained leaders.  
During the six-week workshop, participants will learn tools to: 
Improve health and mobility

 

Manage chronic diseases (i.e., diabetes, COPD, depression, high blood pressure…etc.)

 

Reduce stress and cope with pain

 

Create action plans to improve overall health

 

Develop better communication with family, friends, and your healthcare team

 

Increase healthier food choices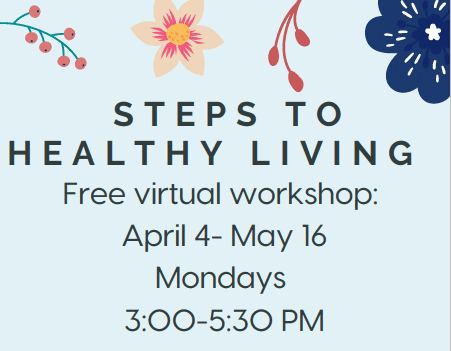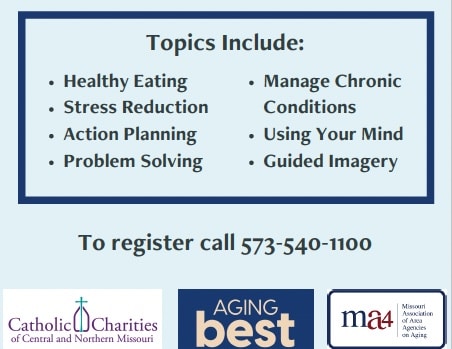 Catholic Charities of Central and Northern Missouri
---
JEFFERSON CITY
1015 Edmonds Street
Jefferson City, MO 65109
Phone: (573) 635-7719
Family Immigration Services
1130 E. Elm
Jefferson City, MO 65109
Phone: (573) 632-0017
COLUMBIA
916 Bernadette Drive
Columbia, MO 65203
Phone: (573) 442-7568
SEDALIA
421 West 3rd Street
Sedalia, Missouri 65301
Phone: (573) 658-0642
---
Diocese of Jefferson City
Chancery Offices
2207 West Main Street
Jefferson City, MO 65109
Phone: (573) 635-9127
diojeffcity.org