Our Impact: Spotlight on Fundraising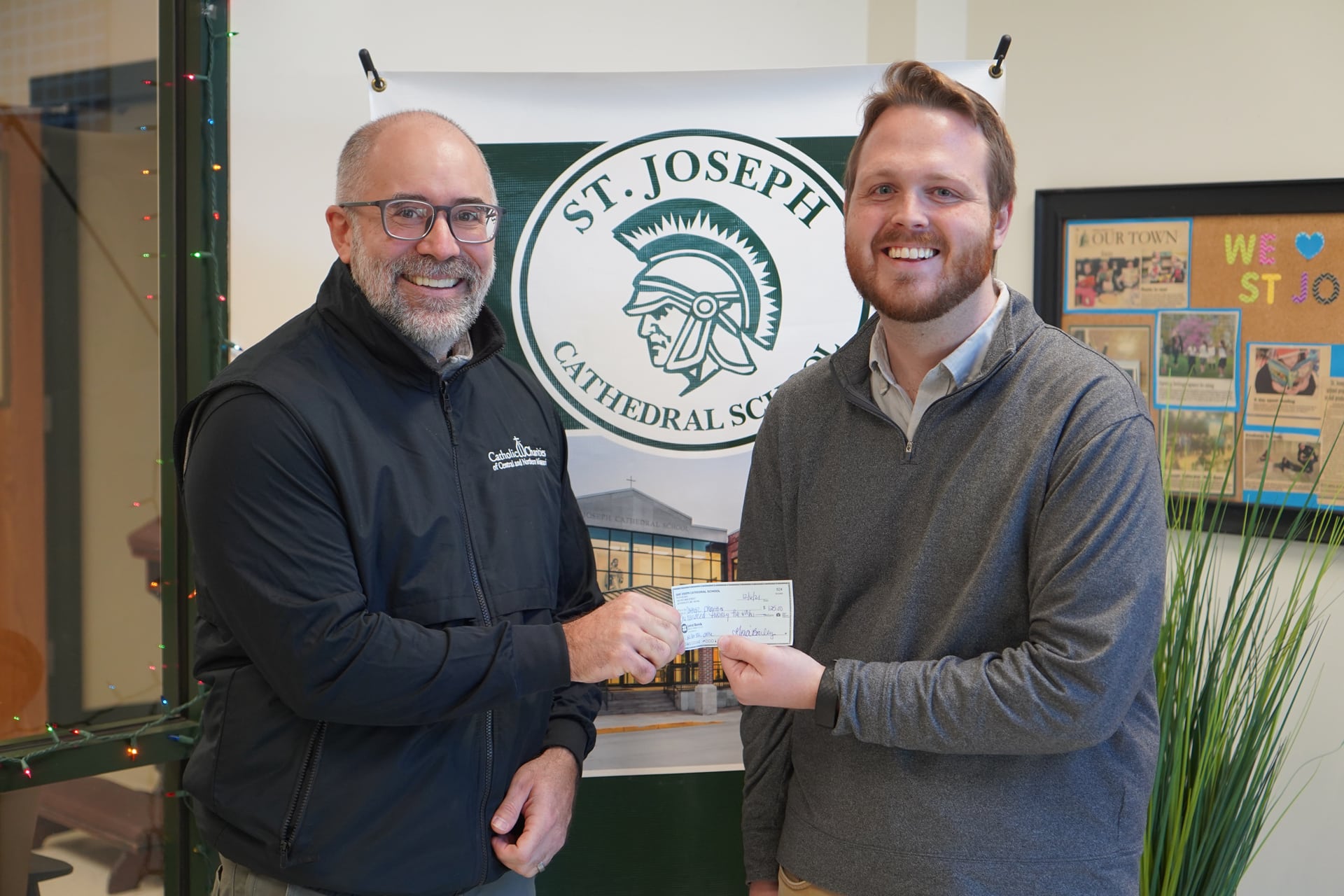 Catholic Charities supporters gave nearly 2,000 gifts to our agency – with 300 new donors joining us in our mission for the first time.
Pictured: Executive Director, Dan Lester, is handed a check by St. Joseph Cathedral School faculty member Joseph Powers; students across the diocese organize fundraisers and food drives to support their Catholic Charities agency.
In 2022 Catholic Charities of Central and Northern Missouri participated for the first time in iGiveCatholic, a national platform connecting the faithful to support organizations that express their Catholic mission in their work. We were honored to raise over $3,000 on Giving Tuesday and look forward to participating in iGiveCatholic this year, and seeing that impact grow.  
We're also so grateful to see that our Missouri State Employee Charitable Contribution (MSECC) gifts exceeded our support in 2021. When Missouri state employees designate our agency as their charitable organization of choice, their contributions make a difference in the lives of those we serve.
---
"Charity and mercy are central to our identity as Catholics. We strive to live out these virtues in our daily lives, in our parishes and through our Catholic Charities of Central and Northern Missouri. With your support and your volunteerism, we are helping spread these works of charity across the Diocese of Jefferson City — a beautiful reflection of the Catholic spirit as we seek to walk in the footsteps of Christ."
—Most Reverend W. Shawn McKnight, Bishop of Jefferson City
---
We are also grateful to the 99 supporters who joined in giving to our CoMoGives campaign in support of the Catholic Charities Refugee Services program. In December, this program faced devastating office flooding; the restoration of our Columbia office space likely spanning into spring or summer 2023. The $15,000 raised during CoMoGives has helped us pivot infrastructure to continue serving clients. The resiliency of our staff, the generosity of community partners, and the dedication to our mission have kept these vital services going.