A Message from Bishop McKnight
La Salette in Jefferson City
From the La Salette website:  The property was purchased by Fr. William Crane, M.S.,  Provincial, for the La Salette Missionaries in 1948. It comprises 10.5 acres with a large main house. The property, known as the Otto Botz property, was bought by the St. Peter's School group of St. Louis. The school association then resold the land to the La Salette order, Mr. and Mrs. Botz donating their equity in the building to the project.
The large concrete and brick building in which the Botz interests formerly operated was used as the main the school building. This approximately 25,000 square feet of floor space was converted into a chapel, class and recreation rooms, dormitories, a kitchen and dining room. The capacity was listed as approximately 150 students.
The La Salettes also purchased the Botz residence just south of the main plot of land, and additional adjoining tracts of land. The Botz residence was used as a faculty residence. A smaller building, known as the old Heidtker home, was used as a residence for the Sisters assigned here in charge of seminary dining rooms.
The new junior seminary was opened with a Solemn Pontifical Mass on Sept. 8, 1948.
View a Gallary of Historic Images of the La Salette Seminary in Jefferson City
Helen A. Shikles Senior Center
For many years after the La Salette seminary closed, the former chapel served as a senior center for the residents of Jefferson City.  In 1983 the center was renamed the Helen A. Shikles Senior Center, in honor of Helen and Lonnie Shikles.
From the plaque that is still present at the building: "Lonnie Shikles was a commissioner of the Housing Authority from 1964 to 1978.  He served as chariman from 1971 to 1973.  When he learned that this senior center could not properly function without an elevator he generously contributed toward it as a memorial to his wife, Helen.  The many people who knew her must surely agree that the present commissioners acted appropriately in accepting Lonnie's gift and in resolving to name this center in honor of Helen, so that all who are served here will remember her."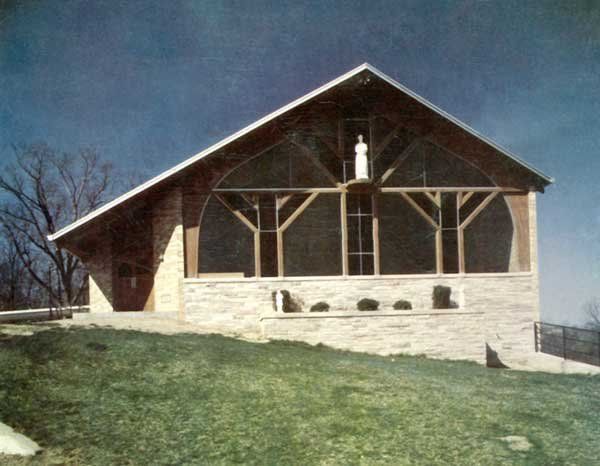 Catholic Charities and the Future
After the senior center was moved from the building into a new location, several different groups called the space home.  Most recently, the gymnasium was utilized by the Jefferson City Parks and Recreation Department, while the chapel was utilized for theatre shows by Capital City Productions. 
In February of 2019 the Jefferson City Housing Authority, which now owned the building, put out a request for proposals to the community for the redevelopment of the property.  Catholic Charities, recognizing the opportunity that such a space would represent for delivering services to those in need, submitted a proposal that was ultimately accepted.  The proposal calls for the creation of a multi-service health and social welfare center with a variety of programming options.  A generous grant from the SSM Health St. Mary's Hospital Foundation funded Catholic Charities purchase of the building.
Future plans call for the inclusion of a client choice food pantry, universal exam rooms for health care providers to utilize for screenings and other basic health services, classroom space for various programs, and the inclusion of Catholic Charities current services, including disaster recovery, housing and financial counseling, and immigration services.
Architectural Renderings courtesy of Simon Oswand Architecture
A central tenet of Catholic Social Teaching is care for God's creation.  We show our respect for the Creator by our stewardship of creation. Care for the earth is not just an Earth Day slogan, it is a requirement of our faith. We are called to protect people and the planet, living our faith in relationship with all of God's creation. This environmental challenge has fundamental moral and ethical dimensions that cannot be ignored.
To this end, Catholic Charities new home will be a near net-zero building.  This means that we will produce nearly as much sustainable energy on the site as we consume in a given year.  We will achieve this through a high-efficency geothermal HVAC system, combined with solar panels installed on covered parking structures (an example is illustrated below).
We are proud of our efforts to care for creation and believe that the long-term financial and environmental benefits of our sustainability efforts will be a tremendous assest to Catholic Charities, those we serve, and our community. 
Help us turn our dreams into reality! Give today and your gift will be matched dollar for dollar by the J.E. and L.E. Mabee Foundation! Help us create a place where our whole community may feel at home, expand our ability to serve our neighbors in need, and restore a piece of our mid-Missouri Catholic heritage. Donating online is safe, quick and easy!
Funding for the purchase of the building and land was provided by a generous grant from the SSM Health, St. Mary's Hospital Foundation.