Mid-Missouri Self-Management of Blood Pressure program hosts second trainee session, expands to more sites
JEFFERSON CITY, MO. On June 30, 2022, Catholic Charities of Central and Northern Missouri (CCCNMO) hosted a second CDC-sponsored training of Healthy Heart Ambassador Facilitators for the Mid-MO Self-Management of Blood Pressure (SMBP) program. The eight-hour training was provided by Missouri Department of Health and Senior Services (DHSS) staff, kicking off Phase 2 of the Mid-MO SMBP program.
Eleven participants were trained, including individuals from the Cole County Health Department, Columbia/Boone County Public Health Department, Community Health Center, Faith Based Health Ministry, and a bilingual facilitator from El Puente. Two University of Missouri students interning at Catholic Charities were also present for the training.
Phase 2 of the Mid-MO SMBP program seeks to increase the number of site facilitators and sites at which participants can enroll in the free program. Once enrolled, participants learn how to accurately measure their blood pressure over time. They are also given education experiences and practical tools to positively impact their blood pressure to help them reach their determined health goals.
To expand the network of mid-MO SMBP collaborators, an initial task force was developed in February of 2021 – comprised of academics, health care professionals and agencies, and community leaders.
"Through the mid-MO SMBP, we are building a network of trained Healthy Heart Ambassadors to help individuals improve their health by knowing how their blood pressure is trending – then giving them tools to do something about it," said task force chair, Beverly Stafford.
"We tend to rely on our physician and medication to take care of the problem when in many instances small adjustments in activity and nutrition can improve health and reduce the risk of chronic disease," Stafford continued.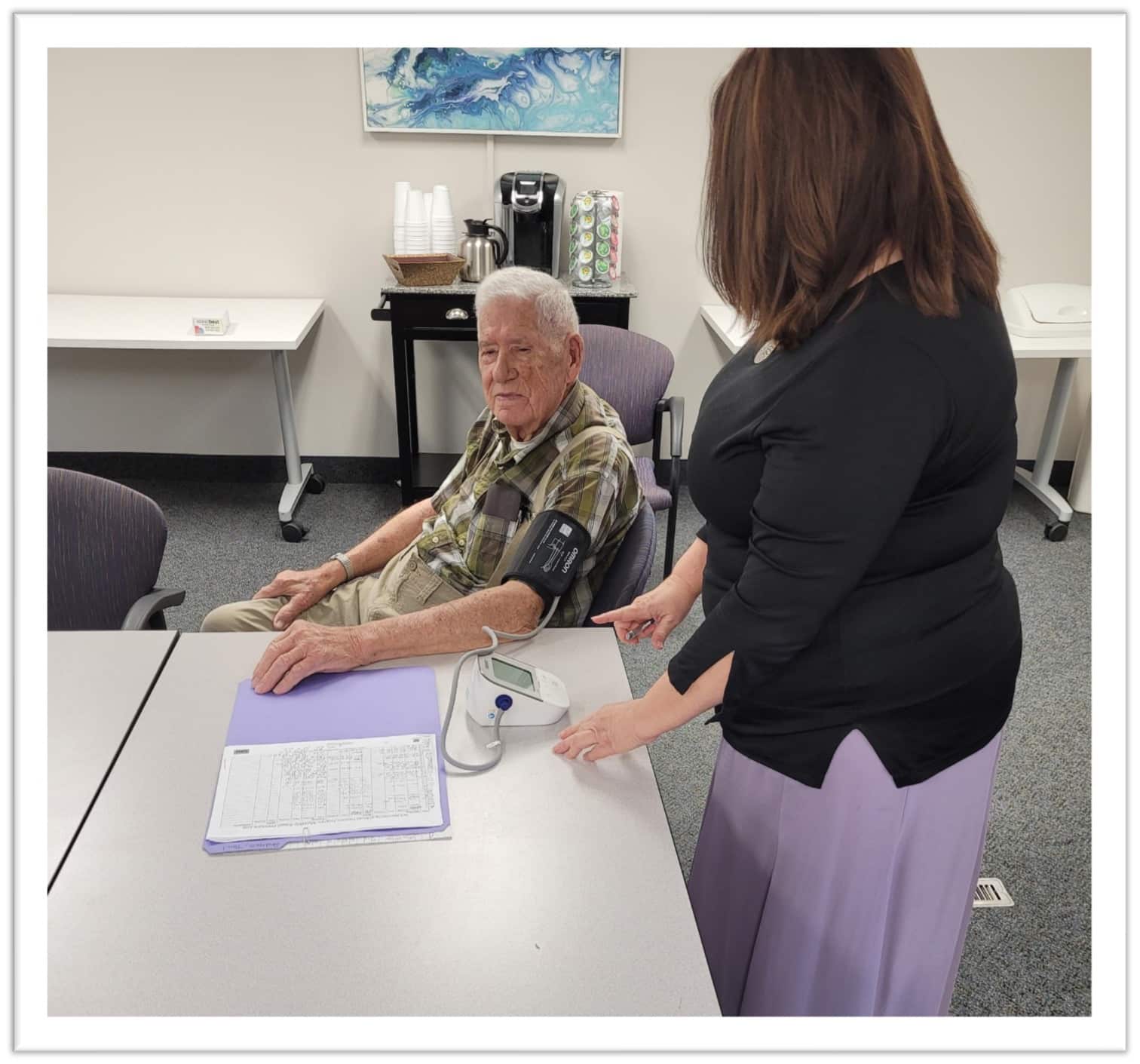 As a federally qualified health center, the Community Health Center of Central Missouri has a team of physicians, nurse practitioners, nurses, dieticians, community health workers and behavioral health staff that can help patients control their blood pressure and improve their health.
Approximately 20% of adults seen at the CHCCMO have been diagnosed with hypertension – or high blood pressure. Out of the adults with hypertension, 37% of those individuals have blood pressures that are not controlled.
"We know that there are even more people in our communities that have undiagnosed hypertension," said Community Health Center of Central Missouri's Chief Executive Officer, Crystal Sullivan, DO.
"That's one reason the Community Health Center is excited to be participating in the Healthy Heart Ambassador Blood Pressure Self-Monitoring Program through the mid-MO SMBP," Dr. Sullivan continued, "we have the shared goal with healthcare professionals of improving blood pressure and overall health in our communities by empowering participants to take an active role in improving their health through lifestyle changes, healthy eating, exercise, and medications."
The second facilitator training included four participants from the Community Health Center, two of which are expanding the program to churches in the Black community – a community that collectively experience hypertension and chronic health challenges at a higher proportion than their White peers. Similarly, one bilingual participant from El Puente also completed training, expanding the capability to carry out the program in Spanish as well as English.
"The program is expected to reach out to more hypertensive individuals, assisting them with monitoring and managing their blood pressures," said Health and Nutrition Services Director, Judith Mutamba, "while encouraging utilization of resources available to them such as healthy foods through food pantries and health and nutrition education seminars offered at participating sites."
Mutamba is responsible for igniting the spark to assemble the task force, coordinating with community leaders to establish the first mid-MO SMBP sites, and continuing to expand the program through relationship building in both Boone and Cole Counties.
"We envisage this networking of professionals, community leaders, and trained HHA facilitators, helping to reduce the risk of cardiac events such as stroke and heart failure, through better managed blood pressures, in the vulnerable communities we serve in Mid-Missouri," Mutamba stated.
She continued, "And as we grow this program, we hope to see the positive impact it has on community health grow as well."
###
Catholic Charities of Central and Northern Missouri (CCCNMO), an entity of the Diocese of Jefferson City and the local resettlement agency for mid-Missouri, responds to the needs of people in 38 counties regardless of faith, culture, or situation. This includes services for refugees and immigrants, those with food insecurity, mental health needs, health and nutrition education, basic household, and shelter needs. For more information, visit cccnmo.diojeffcity.org.