Leadership roles sharpen vision for services at Catholic Charities
Media Contact: Ashley Wiskirchen | Director of Communications | awiskirchen@cccnmo.org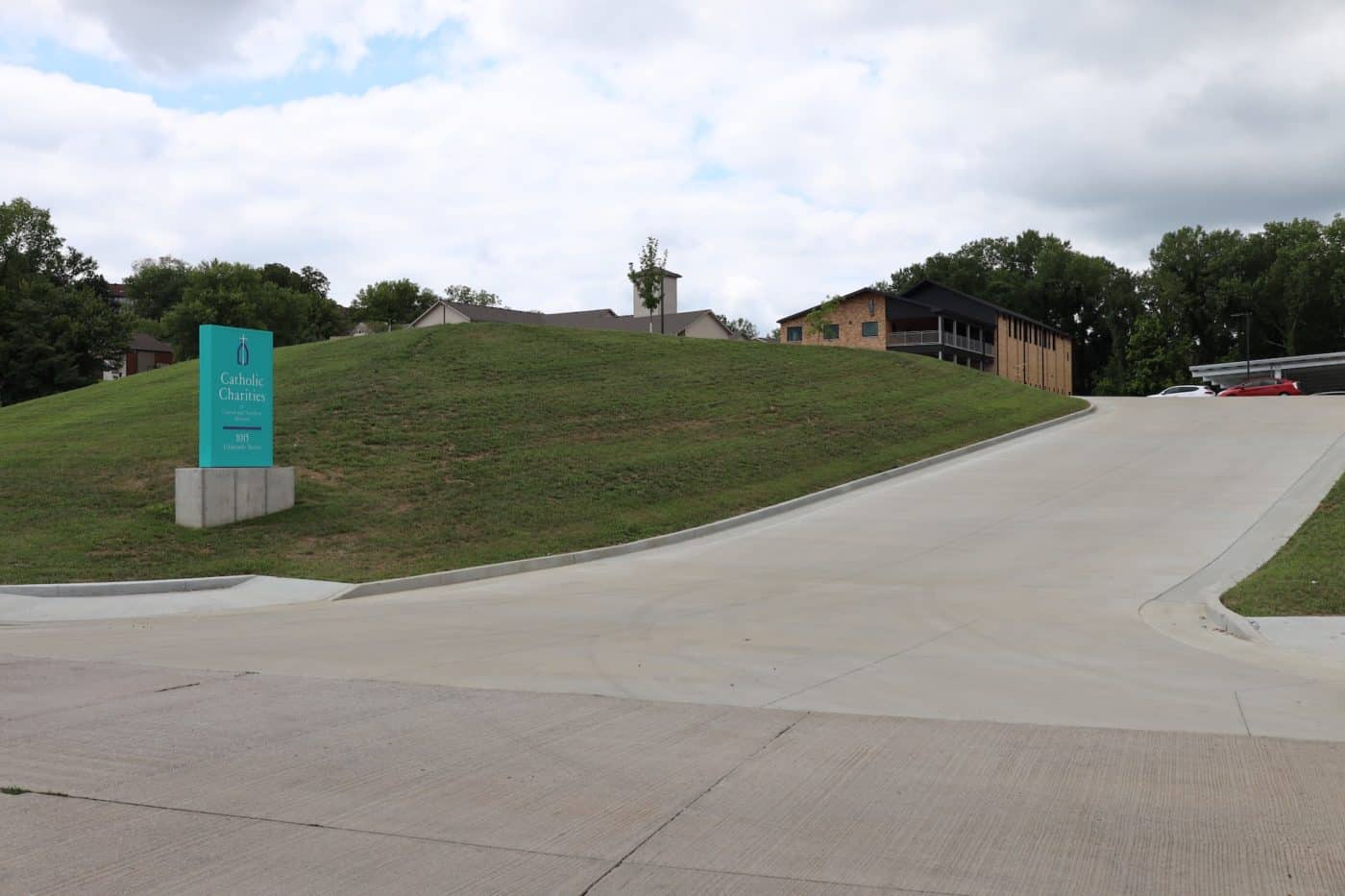 JEFFERSON CITY, MO. As Catholic Charities of Central and Northern Missouri (CCCNMO) continues to grow service reach across the 38 counties of the Diocese of Jefferson City, leadership changes within the agency aim toward an increased capacity for new programs and expanded services.
In June the agency reorganized staff positions to include centralized roles for volunteer coordination and programmatic leadership.
"Our goal at Catholic Charities has always been to provide care and create hope for our neighbors in need, along with engaging our local community in that effort," stated Dan Lester, Executive Director at CCCNMO. "Having skilled, experienced, and passionate leadership to carry our agency into the future is a critical element in continuing to achieve that goal."
Alissa Marlow was appointed Sr. Director of Programs and Services to provide vision, structure, and leadership for the six program areas of Catholic Charities: Community Services, Counseling Services, Health and Nutrition Services, Family Immigration Services, Refugee Services, and Parish Social Ministry.
"I'm looking forward to bridging programs across the agency together to provide wrap-around services for all eligible clients," Ms. Marlow shared, "When our programs are cohesive and our staff are collaborative, we can streamline our work and ultimately provide better care for the clients we encounter."
Additionally, by embracing the mission and identity of Catholic Charities, Ms. Marlow aims to support the implementation of grants and contracts in concert with Catholic Social Teaching.
"This role is built to support programs, ensure the rigorous grant requirements from our funding sources are being fulfilled, and connect the important work we do back to our 'why'," Marlow continued, "As the charitable arm of Diocese of Jefferson City we are called to provide compassionate social services to all and embrace that when we serve those we encounter, we are acting as the hands and feet of the Church."
Chelle Smith-Vandergriff was named Sr. Director of Volunteer Engagement to streamline volunteer experiences from sign-up to onboarding and selecting service opportunities to record time served across agency programs.
"It's important to onboard and orient our volunteers because that helps us provide the best possible level of service to the people who need it the most," Ms. Smith-Vandergriff said.
Since coming to the agency in October of 2021, she has overseen volunteer onboarding and service opportunities, leveraging over 400 volunteers in the past year who have given over 18,000 in service to their communities.
"Volunteerism engages the local community in our mission," Ms. Smith-Vandergriff continued,"Community Co-sponsors empowered our agency to receive and resettle nearly 300 newcomers during Operation Allies Welcome, pantry volunteers work alongside our staff to encounter and serve pantry members while they shop, welcome center volunteers, help keep our office operations running smoothly."
In August the agency welcomed Ken Palermo, MM, into the role of Director of Refugee Services. Mr. Palermo comes to Catholic Charities after serving with the Missouri Department of Health and Senior Services as Deputy Director and State Registrar. His leadership experience and managerial style aim to strengthen resettlement services to improve client experiences and streamline the staff work required to continue welcoming newcomers to mid-Missouri.
"It's been an honor to step in to lead a motivated and compassionate team of people," Mr. Palermo shared, "Navigating the challenges of resettlement requires many hands to make light work.
"Through formal services supplied by the CCCNMO team and coupled with the vast network of partnerships across the region, our clients will continue to receive support, guidance, and grace as they begin anew," he continued.
Catholic Charities Refugee Services office is the only local resettlement agency in mid-Missouri, having helped nearly 500 newcomers resettle in Columbia, Fulton, and Jefferson City in the last year.
In September Catholic Charities relocated its Columbia office from 916 Bernadette Drive to 1240 E. Brown School Road in north Columbia. With the transition to a larger facility, equipped with additional office space, client meeting rooms, and a larger conference room comes the ability to add Catholic Charities staff from various agency programs. In the future, the Columbia location will house staff across agency programs.
The agency is currently building up staff to launch Connections, a new program for the agency aimed at serving and supporting pregnant women through their pregnancy and their child's first year with case management, education, and resource referral. The aim is to have the program operational before the end of the year.
###
Catholic Charities of Central and Northern Missouri (CCCNMO), an entity of the Diocese of Jefferson City, responds to the needs of people in 38 counties regardless of faith, culture, or situation. This includes services for refugees and immigrants, those with food insecurity, mental health needs, health and nutrition education, basic household, and shelter needs. For more information, visit cccnmo.diojeffcity.org.