Hear My Story: John and Ma Ri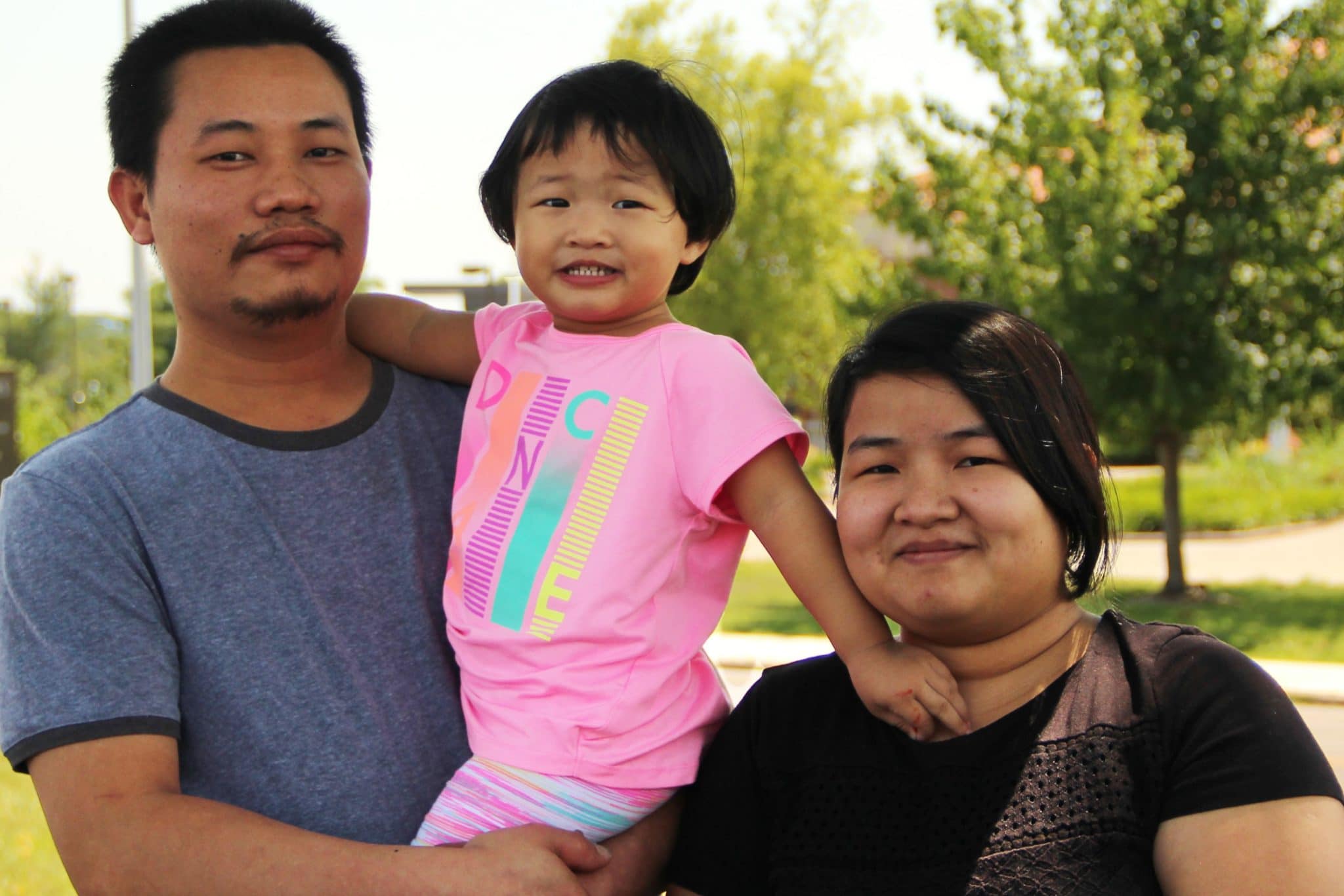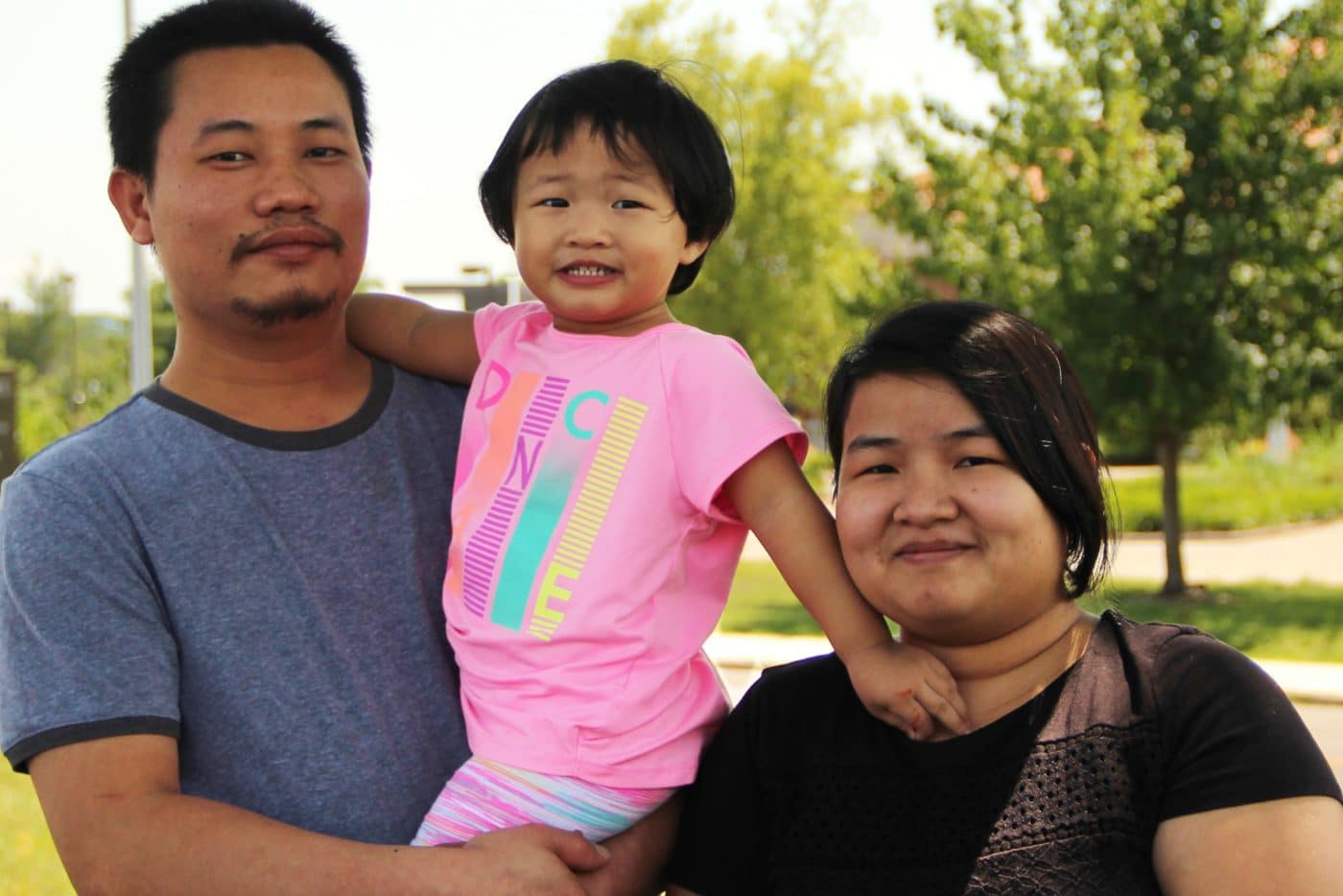 Stories of tragedy, courage, and hope reborn: these are the voices of the refugees served by Catholic Charities of Central and Northern Missouri. Learn more about the refugee experience from those who have lived it first hand.
What is your name?
John and Ma Ri
Can you tell us about where you're from?
John: Burma, and we were in Malaysia before coming to the U.S.
Did you come to the US with family?
John: Yes, us two and our daughter.
How old were you when you came to the US?
John: 29
Ma Ri: 26
What was your first impression of Columbia?
John: I was happy, everything looks nice, looks good.
Ma Ri: I feel happy and at peace.
What surprised you most about life here?
John: The community was supportive.
Ma Ri: The first person I met was part of the community and gave me a warm welcome, which made me surprised.
What was the hardest thing to learn about life here?
John: The hardest thing to learn was English
Ma Ri: I'm not the head of the household, and so my husband did everything first. My husband covers for me.
What do you think of Columbia now?
John: It's a good place to live.
Ma Ri: It's a place of safety.
What are some of your favorite things about Columbia?
John: It's a good and safe place to stay.
Ma Ri: Compared to other places, Columbia is safer.
How has Catholic Charities Refugee and Immigration Services helped during your transition to life in the US?
John: As soon as we arrived, they helped us find housing, and the people at the office helped a lot.
Ma Ri: I'm very happy because the office offered very detailed help, even with the small things.
What was your first job here?
John: I worked at a restaurant.
Ma Ri: I just stayed at home and took care of my daughter.
What is your greatest accomplishment?
John: The best thing is people were friendly.
Ma Ri: I like it because it's quiet.
What is your dream for the future?
John: Open my own business, like a restaurant or something like that.
Ma Ri: I have worked at a nail shop before. In the future, I want to work at a nail shop or own a nail shop, but right now I've stopped working to care for my daughter.
What is your favorite thing about your home country?
John: The culture and the food.
Ma Ri: The same.
What do you miss the most from your home country?
John: Family, brother and sister
Ma Ri: The same thing, my family
Are there any family or cultural traditions you keep?
Ma Ri: Cultural clothing
What does being American mean to you?
John: Safety, freedom of speech, and if you work, you can succeed.
Ma Ri: Freedom, and the same thing; if you work, you can succeed. If you work harder, you'll be able to find success. Everybody also has equal rights.
What does being a refugee mean to you?
John: You cannot stay in your own country. We run to and take refuge or asylum in another country.
Ma Ri: I have trauma/fear from the torture and running from the military from the Burmese government.
What does World Refugee Day mean to you?
John:
People all over the world for many reasons, maybe government or religious or race persecution, all those people who are suffering, this day is to remember them. It could be any reason someone is suffering, from the government, religious persecution, or racism, and all the people who are suffering from those issues, World Refugee Day is to remember those people from all over the world.
What do you want the community to know about refugees or your home country or culture?
John: It's because of the brutal treatment of the government and the military that we had to come over here.
Ma Ri: So many things, the main thing and the biggest reason is there is inhumane treatment from our government. Because people don't recognize us as human beings.
What would you tell yourself when you first arrived in Columbia?
John: At first, I thought I'd need to go to school and wanted to go school, but on second thought, because of the needs of supporting the family, I need to continue working instead of going to school
Ma Ri: I don't have any time to re-think the past. We have a tight schedule. My husband needs to go to work and I need to take care of my family, so I don't really have time to reflect in the past.
Is there anything else you would like to share?
John: I want to say thank to all the people in this organization, all the citizens of this country for letting me live in this country.
Ma Ri: I would like to give people who are still over there a chance to come over to us. Over there, they don't have anything to do, and I want to thank all the people supporting me, and allowing me to stay in Columbia, and God Bless.