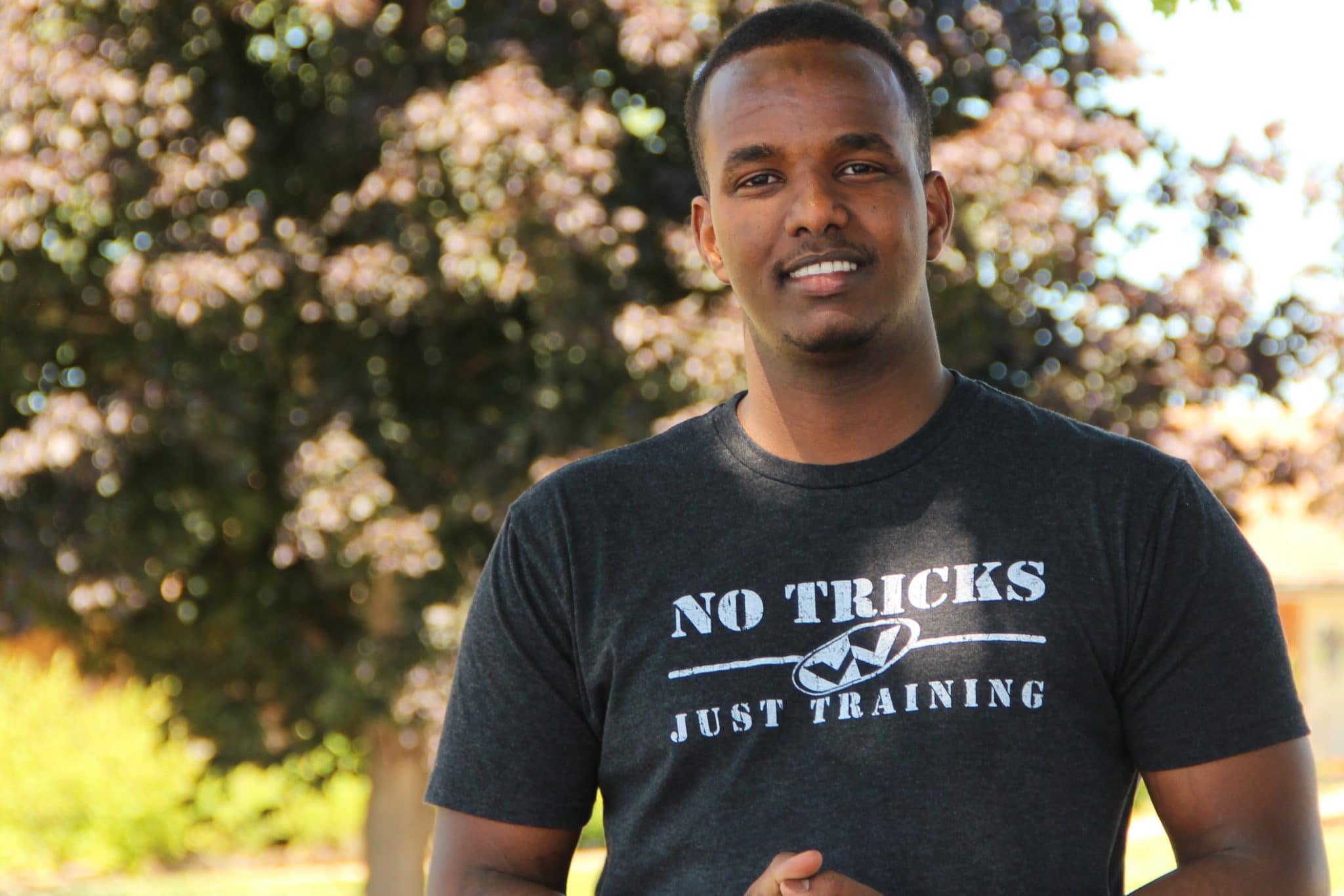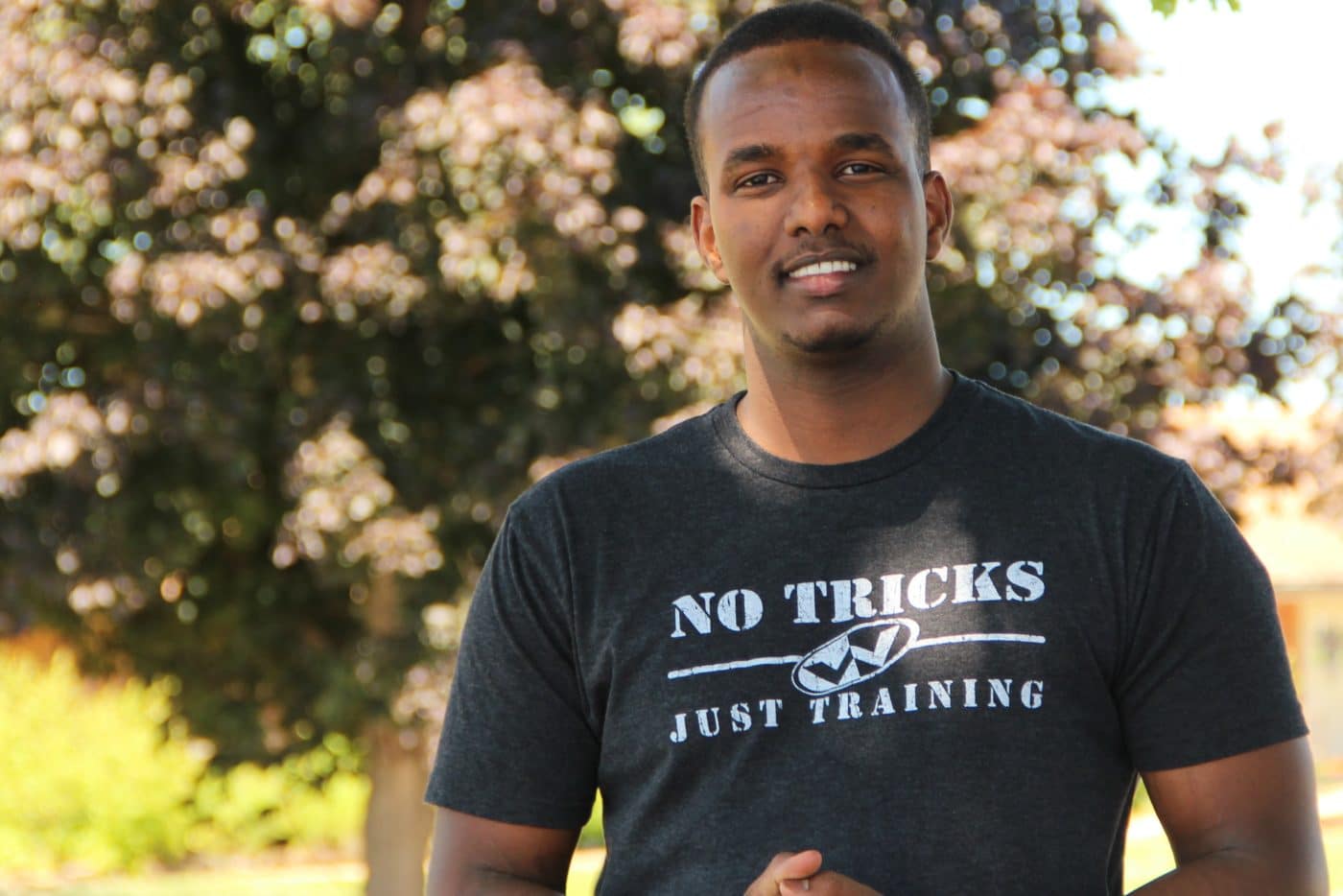 Stories of tragedy, courage, and hope reborn: these are the voices of the refugees served by Catholic Charities of Central and Northern Missouri.   Learn more about the refugee experience from those who have lived it first hand.
What is your name?
Abdullahi
Can you tell us about where you're from?
Somalia
What was life like before coming to the US?
We came here as refugees almost three years ago. Our life was different than the one we have right now. Comparing schools, back home it was really hard to go to school. It's totally different than what we have right now.
Did you come to the US with family?
I came here with my whole family except my dad because he was living here before we came, that's why we came here.
How old were you when you came to the US?
I was almost 18.
What was your first impression of Columbia?
I didn't know about the life here in this country, not just in Columbia. When we came, I had to start from scratch; meet new friends, go to school, learn American culture. All of that was new to me, so I had to learn it all at the same time, even the language. English is hard, but now it's kind of easy.
What surprised you most about life here?
Education, that was number one for me, going back to school. That was one of my main goals to do it and I did it.
What was the first school you went to? Where are you now?
I started high school almost as a senior. I started out at Hickman, and then went to Douglas High School, which is where I graduated from. Then I went to MACC which is a community college. Right now, I'm at MACC, and this fall I might transfer to Mizzou, but we will see. I have a lot of friends who go to Mizzou, so that's why I'm thinking of transferring.
What was the hardest thing to learn about life here?
Coming here as a refugee, you don't know everything. You have to get the culture, you have to learn how to drive, you have to know the language, you have to learn everything. To move to a new country, you basically have to understand everything from scratch. You've never been here and it's your first time, so you have to basically try to teach yourself how to become a member of the community.
What do you think of Columbia now?
It's a great city to live in. I love Columbia, it's like my home right now. I can't imagine life without Columbia; it's the best place.
What are some of your favorite things about Columbia?
It's a quiet place, it's a small city, it's basically a college-town. I love it.
How do you feel about the community here?
Great community, I love it, great people. Columbia is a great city with great people, I love them, that's why I'm always here.
How has Catholic Charities Refugee and Immigration Services helped during your transition to life in the US?
Everything, to be honest. When I was getting my driver's license, I called and asked them, "Hey, I want to get my driver's license, can you all help me?" They were always there to help.
I work with them sometimes during the summer with the Youth Summer Program. They're really great people. They help the community, they help the youth and teenagers. If they want to go to college, RIS works with them. If they want to learn how to drive, or learn anything about the city, whether it's parks to go, fun places to go, RIS helps them a lot.
What was your first job here?
I had a part-time job, but now I'm looking for a full time job because it's the start of summer. My first part-time job was at a restaurant.
What is your greatest accomplishment?
Finishing high school is my number one accomplishment. The second one is starting college. My third one can be anything, starting a business or maybe writing a book. I don't know, we'll see. There's always room for more accomplishments.
What is your dream for the future?
A lot, I can't even explain. My short term goal is to start my own business; it can be anything or real estate. I like real estate, so I might go into that.
What is your favorite thing about your home country?
It's the food. We don't have Somalian food in Columbia, so sometimes you may miss your culture of food, so that's something I miss. Back home, we used to eat a lot of anjera in the morning for breakfast, but we don't have it here often. Here, since we don't have the materials, we may not make it every morning. My mom sometimes makes it on the weekends though, since we have more time.
Are there any family or cultural traditions you keep?
July 1st is Somalian Independence Day. We do little things and call it a day. We also do Ramadan.
We don't have a lot of Somalian people in Columbia, but other cities or countries, they have larger populations. Here in Columbia, my family is the largest Somalian family.
What does being American mean to you?
American is just a great country where you can have a dream, where you can achieve your goals.
What does being a refugee mean to you?
Being an immigrant or refugee is tough. You may have a lot of challenges, but at the end of the day, you stand up or you complain about it.
What does World Refugee Day mean to you?
Ever since I moved here, I participated, volunteered and helped at World Refugee Day. We come together, eat, and play games. This year, we have coronavirus, so we can't come together and do social things. Still, we can do something virtual. It means, to us, a lot.
It reminds you there are still immigrants on this planet; we still have a lot of people who don't have shelters, a lot of children who don't have a house or education or food or health system. It's going to remind us there are still other people who have a life you may be used to having. For me, it's a reminder.
Do you feel like there are misconceptions about being a refugee?
A lot; even for me I experienced that. I have a lot of American friends, when they hear about immigrants or people who come to this country, they think that we are taking away jobs. I explained to them, "Don't hate these people, don't listen to what the media or TV are telling you. Just try to educate yourself and learn why these people are coming to this country and try to understand the reason behind it."
When I explain everything to them now, they really love it, and when I show them the culture, food, everything, they still love it. Sometimes they'll call me and say, "Abdul, can you bring some dishes?" And I'll remind them these dishes are from immigrants so keep that in mind.
What do you want the community to know about refugees or your home country or culture?
A lot of people are easy to judge other people. Just educate yourself. If you have a problem or if you want to hate someone, just learn more about it and make decisions for yourself, not what you hear from someone else.
What would you tell yourself when you first arrived in Columbia?
Not only myself, but to everyone, I'd want to say just be social, be nice to everyone. It's that simple. Do good things for everyone, and always be nice to everyone. Don't say things like, "These aren't my people, this isn't my culture," just learn more about it and socialize. Connect to everyone.
Is there anything else you would like to share?
In life, I've had a lot of experience because I've lived in different countries and I've lived here in Columbia. The only thing I can say is if you want to change your life or change someone else's life, just try to understand them. Understanding is the first thing, and listening. A lot of us, we don't listen, but it's always good to listen to other people and see what their opinions are. Just listen.